Lisa Kabus
Born into the third generation of artists, Kabus was raised in New England, Texas and Mexico. Kabus' youth was heavily influenced by established and successful artists in various art colonies including San Miguel, Mexico and Cape Ann, Massachusetts who honed her craft to the highly regarded professional level it is today. Lisa's gene pool is rich in artistic DNA with a cross section of musicians, painters, photographers and sculptors in her bloodline. It is fair to say that while Kabus waited to engage her painting talents until her forties, the genetics and environmental seasoning was strongly influential. Lisa Kabus is a genuine example of finding one's exceptional path for talent and passion thru a life-altering incident. The epiphany followed a tragic event in 2002 after Lisa lost one of her closest childhood friends to a fatal disease. Lisa spent a year and a half helping her friend fight for her life. "After Barbara died, a part of me died too. I had to throw myself into something and looking back, I give all the credit to Devine intervention". Kabus created an event, called "Art in the Garden" that featured local emerging Atlanta artists. All proceeds were donated to Barbara's family to help create scholarship funds for the children. The event was highly successful with over 48 pieces of art sold. The week after the event, the phone did not stop ringing with people asking for "Lisa's eye" to help find art for collectors and design projects. In 2002, Lisa formed Art To Market, representing dozens of well-known national and international artists. In a short 3 years, Lisa had gained significant traction on the art scene and became recognized by some of the country's most prolific art collectors. With the advent of requests by clients to view and purchase her own work, Kabus began to represent her art. Now a full time artist, Kabus' work is widely collected and has been featured in magazines and TV including Atlanta Homes and Lifestyles as well as The Today Show and HGTV. In addition, Kabus has been a featured speaker at shows and events, including the "Curiosities" event at Park City, Utah last year. Lisa has been loyal to her roots. Her career was born on the foundation of charity and creativity and as she notes, "one feeds the other". She stays committed to the cycle of both creating and giving and donates paintings continually to charitable fundraisers.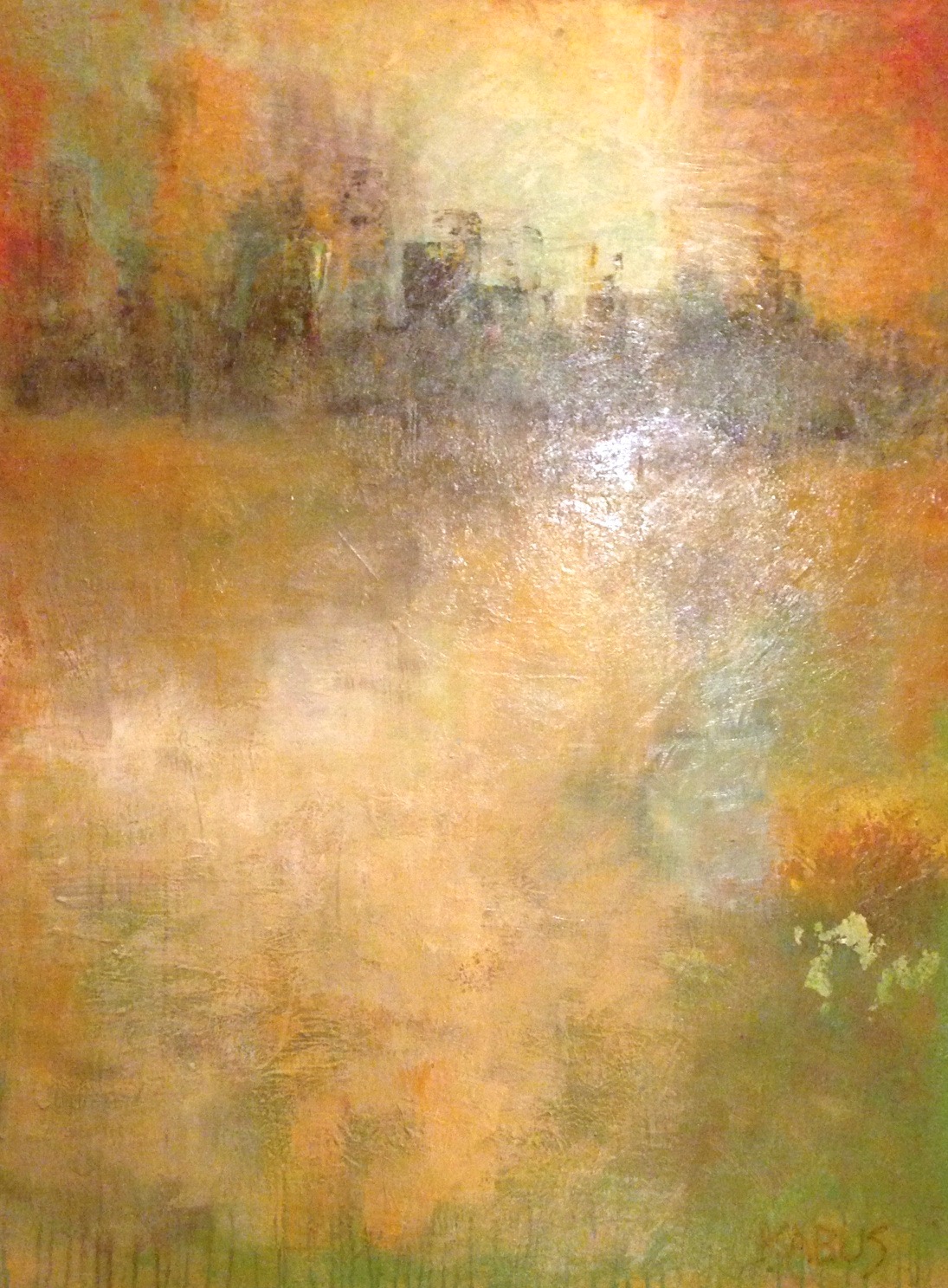 Blue City, Mixed Media on Canvas, 36" x 48", Price on request
To express interest, please write us at [email protected] or give us a ring at 423.265.0015 and we'll be happy to answer all of your questions.
All of our art requires special packing and handling. We'll be happy to give you a shipping quote based on size, weight, and destination.